Has anyone used SMS Auto Fabrics as a GT Hawk headliner source?
I have a sample of the material from SMS that is the exact match to my painted dot headliner material. I am considering ordering a new headliner for Jacqueline so that I can replace the slightly leaking windshield and install new windlace.
If you have used SMS as a source how did it fit?
How about SMS windlace?
I purchase some black cloth windlace from SI but have found the cloth wore too quickly and was not period correct. SI does have a new supply of Windlace has anyone tried their new type?
Allen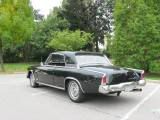 1964 R2 GT Hawk
1963 Daytona Convertible
Oakville, Ontario.
Hamilton Chapter
See you in Cedar Rapids Summer 2009