I'm preparing my parts list for the South Bend Meet next month and would like to order some cat whiskers and the associated clips for the Convertible Lark. My Hawk uses two types the round and the rectangle types. Not sure what is used on the Lark and she's parked out of town.
Does anyone know what type is used or are both types used like in the Hawk?
How many do I need to order to change the cat whiskers on the interior door panels and body?
The door panels cat whiskers may be stapled to the panel so that may be a mute point.
Thanks in advance.
Allen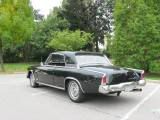 1964 R2 GT Hawk
1963 Daytona Convertible
Oakville, Ontario.
Hamilton Chapter
See you in Cedar Rapids Summer 2009