I found a 160 MPH speedometer a few months ago hidden in a complete dash from a Superhawk on Ebay. As I was cleaning up the lens,.. I juggled,...yipes, DROPPED the glass and it broke in two.
I thought no big deal I just go down to the glass shop and get another lens cut. Well it turns out that today's clear glass is not so clear but is quite green and you could tell the difference.
I was hoping someone out there might have a absolutely junk GT Hawk speedo hanging around with a good glass in it that they could sell me.
Thanks, Allen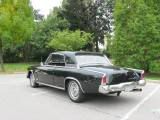 1964 R2 GT Hawk
1963 Daytona Convertible
Oakville, Ontario.
Hamilton Chapter
See you in Cedar Rapids Summer 2009