I tried out the starters that Bob Peterson sent me today. One worked right off, the other didn't, which is okay as they were sent as parts anyway. So, I tried the working one on the Champ's engine with no success. I took the non-working one apart and was able to switch the jacket with the one on the 56's starter (it has a broken lead post). The post lead was broken on the part as well, however, this one was fixable. So, after mending the lead and assembling the starter, it worked beautifully! However, even the 56's starter wouldn't turn the Champ's motor.
So, that's still a problem I have to look into. I installed the 56's starter on it's own motor and was able to get Bess' motor to turn over beautifully! It's been sitting on three jack-stands for months so I was a little concerned. I'm getting itchy to get a Stude going. Besides, I
realllllly
miss Bess.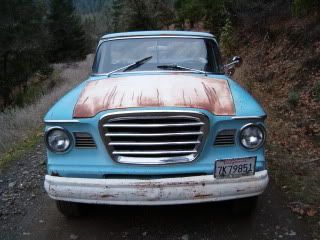 Home of the famous Mr. Ed!
K.I.S.S. Keep It Simple Studebaker!
Ron Smith
Where the heck is Lewiston, CA?