A few years back I got outbid on a local Lark on eBay. It had been restored years previous, and on the way home from the body shop got rear-ended. The owner was so upset he drove it into the backyard and left it. The car was ignored for years, the house got foreclosed, and the new owners wanted it gone. It was a 60 4 dr., 6/stick.
A couple weeks later, I got an e-mail out of the blue from the winner. He's about 3 1/2 hours West of me. He was building a custom, and bought it just for the front fenders, wiper motor, and a few other odds and ends. He's an AMC guy, and was building a 401 for it. He wondered, since I had bid, if I was interested in the rest. It included the front clip off his car (decent fenders with only slight rust), plus the frame and running gear from his car, as he was building his own frame. He said to come and haul the rolling chassis and he'd follow me with the Lark in his trailer: $300 for everything, including delivery! I still have that car in a building; I straightened the frame and body, bought some stuff for it, then lost interest when I found out how cheap much better examples were...
While cruising eBay today, I noticed his favorite AMX was listed. It's a George Barris custom, well-documented and known worldwide. I e-mailed him and asked him if he ever finished the Lark. He had, and sent these pictures: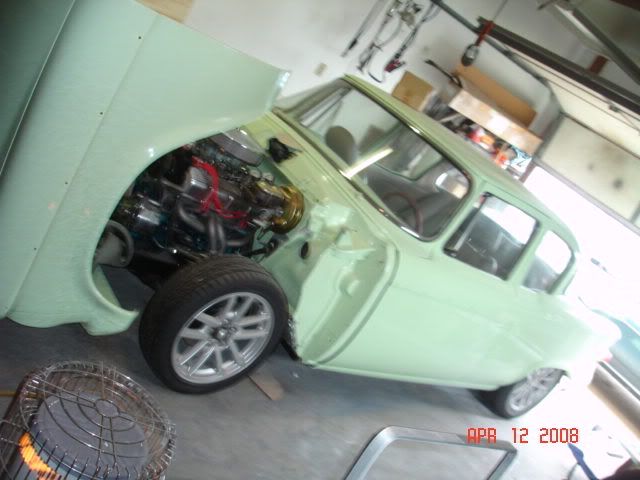 Definitely different!
If you want to see his custom AMX, it's here:
http://tinyurl.com/8d9qpn
Robert (Bob) Andrews Owner- Studebakeracres- on the IoMT (Island of Misfit Toys!)
Parish, central NY 13131
"Some people live for the rules, I live for exceptions"- 311
"Do they all not, by mere virtue of having survived as relics of a bygone era, amass a level of respect perhaps not accorded to them when they were new?"