I noticed a near complete 64 GT Hawk dash on Ebay last week with poor pictures.
One of the pictures showed the rear of the dash which had a Avanti style tachometer module dangling from the harness. It made me wonder.
I decided to emailed the lister and asked him to send me a picture of the gauges. He complied and sent me this picture.
I may have to send the speedo out to get restored but hopefully I will be able to just take it apart and clean it up.
I've been looking for a 160MPH speedo for 3 years which was the last piece that I needed for my Superhawk Clone.
The guy sent the dash to me this afternoon and can't wait to see it!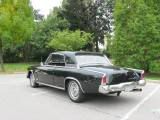 1964 R2 GT Hawk
1963 Daytona Convertible
Oakville, Ontario.
Hamilton Chapter
See you in Cedar Rapids Summer 2009