Hello everyone,
I am a new member but have been reading old posts for the last month or two. I don't actually own a Studebaker but I have been working on my grandfather's old 1951 Jeep Willys with a Studebaker 259 (Vin = V 587982) in it. I was able to (correctly?) identify the engine from a link I found in this forum. It seems to have come out of a '63 Lark. My grandfather bought the Jeep new in 1951 and my dad and uncle swapped the 259 in it around 1969. My dad is getting kinda old and his memory isn't what it was but said that his brother fabricated the motor mounts and it bolted right up to the Willys transmission. He cant remember which bell housing they used or many other details. They also changed the gears out, added the extended bed, and used it for hunting and staking mines. The Jeep was parked in the early '80s and sat in a field for 40 years. My dad hauled the Jeep to his property a few years back and rebuilt the carb within the last year or two.
Since I had some free time during lockdown I escaped the city. While out here I decided to try and get it running. Before this I have never done more than plugs and struts in a newer car. I put in some Autolite 437s (Thanks!), new wires, distributer cap, fuel pump, fuel line, fuel filters, new gas tank, oil, zddp (Thanks!), battery, soaked some mystery oil in the plug holes, and surprise, surprise, that old Studebaker fired right up.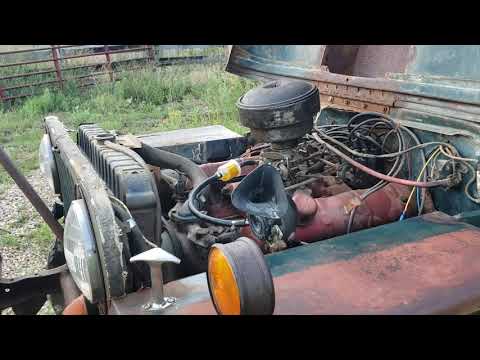 . I'm amazed at how well this engine runs and sounds. Well I think it sounds good as I have never heard a Studebaker engine before. What do you experts think?
I will post in the tech forum about a couple questions, including the passenger side, lower engine, oil canister filter and what appears to be an old tractor glass bowl fuel filter that screwed into the carb.
I really wanted to say thanks to everyone that has contributed to this forum and helped me along my journey. I couldn't be more happy and proud to be able to get this old family Jeep running again. I plan on continuing to work on it and clean it up until I have to return to the city. Here is a picture of the ol' rust-bucket FrankenStudeWillys when I first started working on it. I believe the top is from an old Chevy truck (1940s?).
Special thanks to Clark for helping me with my registration problems.
-Kenneth