quote:
Originally posted by lstude
I was mainly responding to the 700 Horse power, although I did have a supercharged engine at one time. It had the offset manifold but the blower was missing like this one. It is hard to tell from his description if he has the blower, but I would assume that if he did, he would show it.
Leonard Shepherd, editor, The Commanding Leader, Central Virginia Chapter,
http://centralvirginiachapter.org/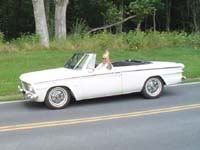 Well, I can see it has the Avanti harmonic balancer, and the idler wheel and arm for the supercharger.
You know, I have everything here to duplicate that car, except for the accessories required to mount the blower to the engine. I guess I'm wealthier than I thought.
Gord Richmond, within Weasel range of the Alberta Badlands