quote:Yep tomorrow night Chubbys a local Diner that has a Sat. Night car show is having a big end of summer car Show. Since we always bring our Stude they asked me If I might get an Avanti there for the show. Well a fellow member in our Chapter told me of a 63 that is just fantastic. I went and saw it on Wednesday. The owner was going out of town this weekend he called one of our members and asked him to take it to the Show. Also a perfectly restored 55 Speedster, Show stopping 63 Wagonaire,57 Silverhawk ,1958 Transtar, 1955 President,1951 Champion Starlight coupe,1949 Champion(Mabel). So at least 8 Studebakers will be there. This will be the biggest showing that I have pulled off yet. Gosh I can't wait until tomorrow. I will take pictures and post a write up for everyone. Every entry gets a chance at $1,000.00 Cash so it ought to be good
Well we went to Chubby's I got there early had the owner save a row for me. Well you know there are yahoo's all over they had taken my row so he had another for me. Well we ended up with 10 Studebakers there at the Car show. There were 126 cars total there so Studebaker was well represented. People were so impressed they said they hadn't seen that many Studebakers ever together. Fantastic night. They had lots of places in this thing and one Studebaker Placed. Ya gotta love it.
2nd Place Muscle Car1963 Avanti
It was up against Roger Penske Built '72 Javelin' Trans am Race Car
Ford Factory Cobra R Racer & The Big Camero Row.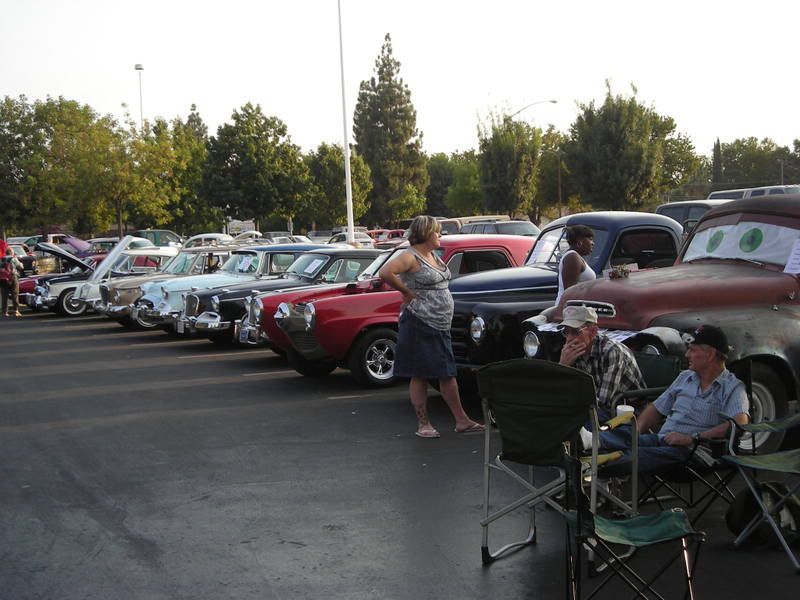 The Stude lineup
1949 Champion Anne Goodman
1950 Champion Bulletnose Starlight Coupe Bruce Novak
1953 Half Ton Pickup Dean & Sheila Davison
1955 President State Sedan Bobby Goodman
1955 Speedster Craig Erickson
1957 Silverhawk Black & White Casy & Wanda
1957 Silverhawk Green & White David Goodman
1958 Transtar (Gus) Anne F. Goodman
1963 Wagonaire Craig Erickson
1963 Avanti Craig Ericson
Some might notice the Poor ol' Mustang at the end of our Row well The Car Show DJ Needed a place for him because he was a sponser I let him have the end space which put Mabel behind the 50 in the dirt lot. Oh well I had Two more Studes than planned so it was a good thing.
Bobby got a ride in the R2 Avanti boy was he impressed.
http://s122.photobucket.com/albums/o...s%20Sept%2008/
Mabel 1949 Champion
1957 Silverhawk
1955 Champion 4Dr.Regal
Gus 1958 Transtar
1955 President State
Fresno,Ca