I don't know about you guys but it sure seems to me that I am spending more time under my car these days than driving it.
I just headed out to see a friends electrical problem at his house and on the return home my Hawk did a HARD pull to the left when I put on the brakes.
I just finished changing the transmission fluid and now have a puddle on my shop floor. Looks like it is coming from the drive shaft yolk and not from the rear seal.
How is that possible?
This is just not in my cards this week with a start of University classes and the PSMCDR starting on Friday.
No use typing here anymore. I got to go and pull that passenger front wheel off and find out what going on with that front disk brake. Hopefully it is just the front flex hose collapsed internally and it will be a quick fix.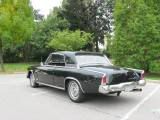 1964 GT Hawk R2 Clone
Oakville, Ontario.
Hamilton Chapter
See you at the PSMCDR in Stanton Michigan September 12& 13