Have a question about some AFB carb numbers . We have 3 carb numbers in question from '63 and '64 cars.
3506 S
3540 S
3726 S
is there any difference in these carbs internally?
Or is it that they just used different numbers through the 2 years. Usually a differnt number stood for something . I was thinking maybe there was differnt jetting between the carbs maybe??
I do know that the 2 carbs 3540S and the 3726S are both on 289 engines and they were both rebuilt by the same professional carb shop and final adjustments were made on a flow table for best performance. the 3726S gets about 18 mpg and the 3540S is lucky to get 10mpg.Both vehicles are tuned properly so thats not the issue. The carb is being replaced with the 3506S to see what it does. Any comments would be appreciated.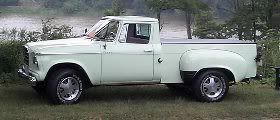 LANCASTER or BUST
"IF YOU WANT THE SMILES YOU NEED TO DO THE MILES "
1960 Champ
1964 Daytona HT