Bugsport is a really neat comic strip penned by Ted Bastian. It's about a small town in Maine that's populated by... aliens!
The hilarious antics of the locals and new residents, the Bastians, take place in the bucolic Maine seaport of, where else, Bugsport!
All of the Aliens drive/fly Studebaker UFOs. Ted's dad even got involved with the airborne antics with his Hawk.
I can't think of a more appropriate comic strip for Turning Wheels than this one.
Aliens are cool!
Here's the link:
http://www.petitiononline.com/60V39427/petition.html
Now, that's just the petition. Here's the link to Bugsport:
http://www.tedsstudio.com/bugsport/index.html
If you've never seen it, I suggest starting at the beginning. Enjoy!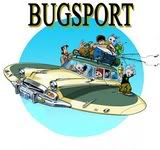 Lotsa Larks!
K.I.S.S. Keep It Simple Studebaker!
Ron Smith