Joe and I went out to the place where we both left some parts cars a few
years ago. I was happy to find that the cars were still there because after all these years, I would not have blamed the landowner if he had sold them for scrap.
I expected a fight getting the transmission crossmember out, but the floor had rusted around the end bolts and the others gave up quickly! Joe had it on the ground before I got the pictures taken. I knew he was good for something!
I snapped a few pictures. When the trucks were brought out here this was a pasture with a few scattered trees that a friend of my father-in-law kept parts cars on from his repair business. If they had not been just recently selling off a few car bodies, i don't know if we could have gotten in there to the car.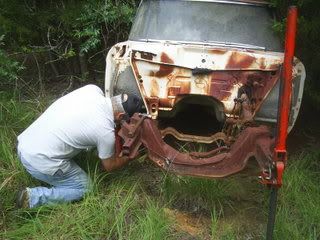 Joe getting it done.
Done!

1952 Champion Starlight, 1962 Daytona.Searcy,Arkansas
"I may be lazy, but I'm not shiftless."