I've been pondering what type of wheel to install on the '63 Daytona Convertible. What's available in Studebaker bolt pattern? I've seen some nice wheels at some meets but haven't settled on anything yet.
Maybe the forum members could post some pictures of your favorite style of aftermarket wheel that will look great on a Studebaker.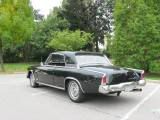 1964 GT Hawk R2 Clone
Oakville, Ontario.
Hamilton Chapter
See you at Niagara 2008 Crossroads Zone Meet July 18-20