Actually he already is aware of this and didn't shoot me (yet
).
I like working on multiple Studes at the same time. If one gets tiresome, I switch to another until I get re energized to go back to the other. About 3 is my limit. Any more and it starts to seem overwhelming. It has been the Ute, the pink '55 Commander coupe and Bigg's purple '63 Daytona.
I really like the looks of the Daytona. I like how Biggs has minimized the trim on it, I like the color, the interior, the wheel/tire combo I chose, etc. It's a fun car to work on for those reasons.
I've been struggling with a engine/trans combo for it. My 1st choice would be a full flow V8 with a 4 speed (it was a 4 speed car originally). I don't have either and to get those items would price me out of the car. My second choice was the 259 and Powershift that Bob supplied with the car. The engine is probably OK, but the Powershift most likely needs to be gone through.
I did have that low mileage 305/TH350 in inventory. It looked like this when I brought it home...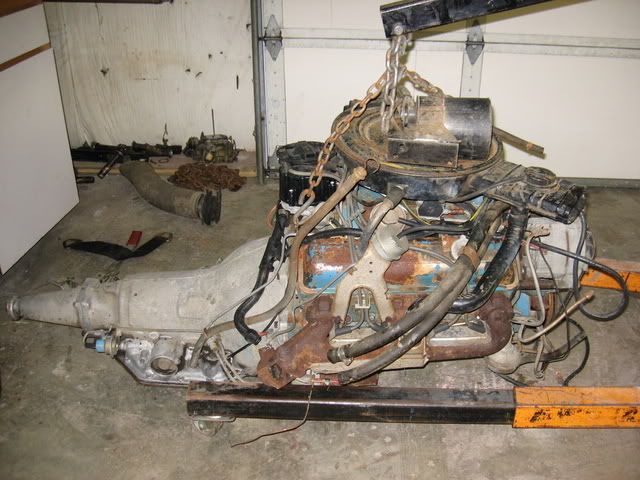 It ran good...
http://youtube.com/watch?v=F2YzW0VIMW8
So I cleaned it up, rattle canned it, put on a $35 swap meet aluminum intake and some chrome dress up parts. Less than $400 into the total package and it looked like this...
I decided that the 305/TH350 would probably be the best choice for this Lark...not my first choice, but the best. It is in keeping with the "hot rod" flavor of the car, and it is the most economical when compared to the Studebaker choices (total cost for the engine/trans is half or less the cost of a BW auto rebuild).
I installed it yesterday...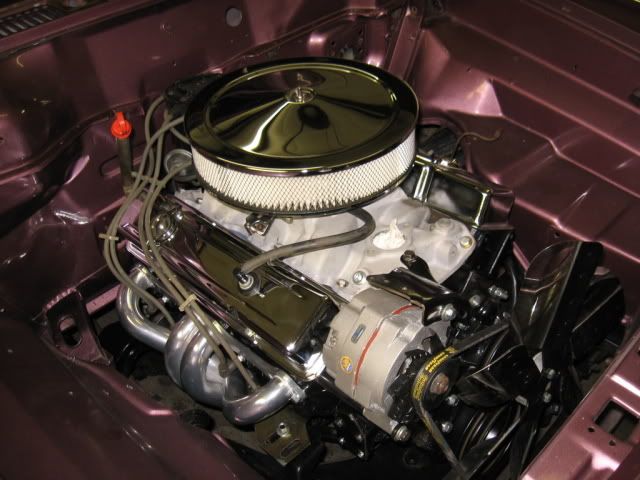 Nothing needed to be cut in the process, so if a future owner wants to go back to Stude power, it is an easy change.