It was nice to see not one , but two Studebakers at the East Coast Timing Association's Speed Trials on May 17th and 18th. These trials are held five times a year at the Laurinburg - Maxton Airport near Maxton, North Carolina. Here are a few pictures of the Studes that participated:
The black coupe is from Maine. These are great folks they come down almost every meet. They have several cars the Stude is the newest. This was its maiden voyage. They made at least 8 runs with various drivers (another tradition the Maine folks bring is that lots of folks drive all of their cars, no matter what team it belongs to) The Butler/McKinney Racing Studebaker's fastest run was 184.664. They were running in A/GALT (A=engine size of 440 cu.in to 500 cu.in G= Gas Alt=Altered) The record for the class is 185.76234. First time at the track and they just missed the class record.
Big Block Chevy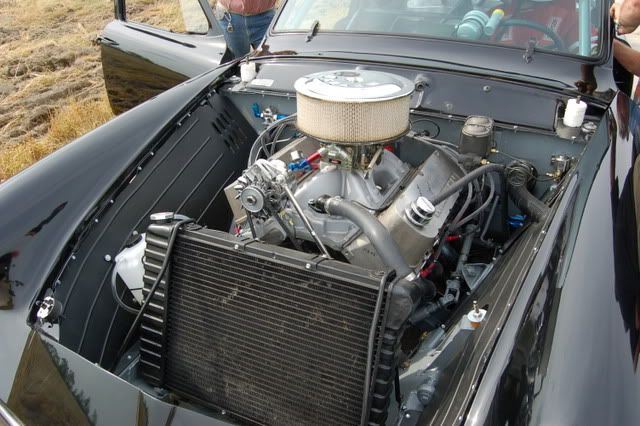 Notice the chute is in a recessed area that gets deeper as it funs down the trunk lid. The body work on this car was fabulous. Both the hood and trunk lid are steel.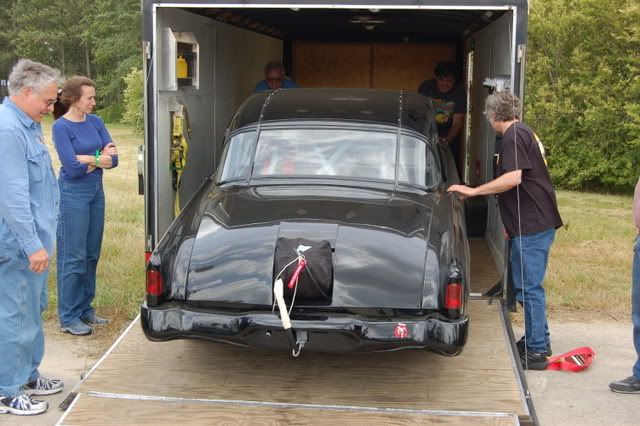 Here is the car coming into short shutdown. Some drivers took down the long shutdown road others turned off early in short shut down. When I'm volunteering at the track this is where I spend the day.
One other tradition of the folks from Maine are their cool chase vehicles. Though not a Studebaker, this is a great truck. It is a COE "General Motors Truck" not yet badged as a GMC. It is on a GMC van frame and running gear.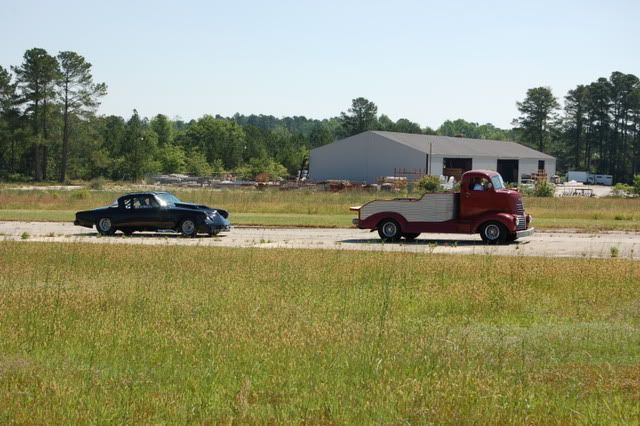 The Mohr Horsepower Studebaker of Stephen Mohr is a unique automobile. Steve's choice of a car was a no brainer. he wanted something aerodynamic enough to eventually go 200 mph without much body modification, but it still had to have room for his wife and three daughters when they go to cruise nights and car shows. It has three sets of racing style sholder harnesses in the back seat, a full cage rated for over 200 mph and air conditioning. Stephen set two records this meet. In A/CBALT (A=engine size C=Classic - American car 1982 and older B=Blown G=gas Alt=altered )he broke the 172.62193 record with a 178.70612. In A/BGALT (only differnce that he did not run in the Classic class here) he boke the old record of 175.78101 with a rund of 181.52847. Stephen is from Atlanta and does fabrication work in a Hot Rod/Custom shop.
Another BBC this time with a blower. Stephen is facing us in this picture. Keith Turk, ECTA vice-president and Race Director has his back to us as he inspects the Stude during Tech Inspection.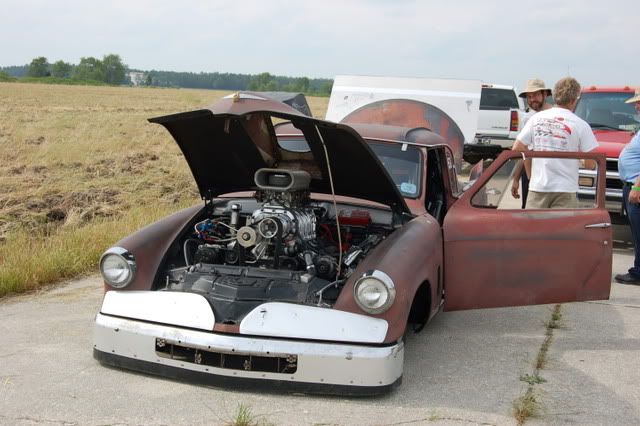 You may have seen Steve's car in Hot Rod Magazine a couple of years ago. It was in the Power Tour write up. Yes, he drove it on the Power Tour.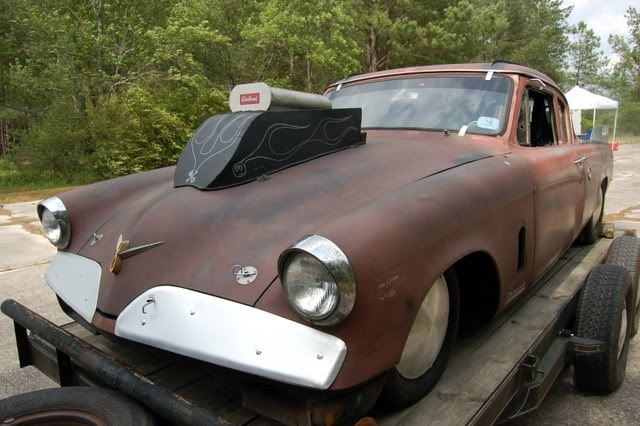 Steve's primered coupe is decorated with drawings and writings done in Sharpie by his three daughters!
Joe Roberts
'61 R1 Champ
'65 Cruiser
Editor of "The Down Easterner"
Eastern North Carolina Chapter