Kent sent a treasure box up with Dick some time ago and I got over to Fred's last week to get it, finally. I installed the speedo cable in Bess and the speedo now works for the first time in, probably, several decades.
Now I can tell why people are flashing those very
interesting
hand signals!
I got my first birthday gift is quite a few years ago yesterday.
George, my roomate/landlord, gave me a service trailer. Kinda like a rolling toolbox. It's used and old, but really cool. Should look great behind Bess.
[8D] Now I don't have to carry my tools in the back of the old girl. She should appreciate that!
I know I will.
All I have to do is replace that sloppy waterpump and put in a temp gauge that gives me something I can understand. Might as well put in an oil pressure gauge as well.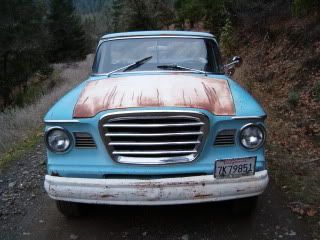 Home of the famous Mr. Ed!
Lotsa Larks!
K.I.S.S. Keep It Simple Studebaker!
Ron Smith
Where the heck is Lewiston, CA?