Just one of those days...
I started this morning by washing the Stude up for drive down the hill into town. She looked and sounded so good I grabbed the video camera and took a little shaky footage. You can see that here:
http://www.youtube.com/watch?v=dqkwhbc-E6Q
As I was driving into town I was thinking how great the car was running today. And then.... I started to smell that awful smell of burnt metal. Not too long after that I saw the smoke.
To keep this from being any longer than it needs to be, one of the freeze plugs pushed out and she dropped her water. I'm hoping there wasn't too much damage to the engine - I shut 'er down and got water into her as quickly as I could. The block showed 260 degrees on my hand held so we'll see. I'm disappointed that this will be the second set of freeze plugs I've paid to have replaced in 6 months. Oh well, would have been better off doing it myself.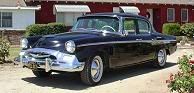 Regards,
Tom
Tom
Three Rivers, CA
1955 Commander 4 dr