quote:The way gas prices are headed it'll be $4.00 a pop by the time summer rolls around. That is going to cramp my style as far as travel anywhere goes. At 14 mpg it is spendy. So I'll not be attending any of these Nationals. Kinda makes me wonder about this old car hobby. Put all that money in the durn thing and then can't enjoy it anyway.
Wagone,
I believe you're looking at this Old Car hobby wrong. Driving a old car is about the experience and running into people with similar interests. Of course everybody has ton of Questions about your car and it is a long cry cheaper to drive a Studebaker at 13 MPG than jetting around in motorboat for a weekend! Even at 13 MPG and $4.00 a gallon the utils of entertainment value exceeds the cost.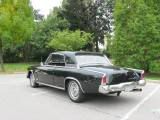 1964 GT Hawk R2 Clone
Oakville, Ontario.
Hamilton Chapter
See you at Niagara 2008 Crossroads Zone Meet July 18-20