OHMYGOSH!! that's where I lived up until 1998, and that's the local dealer on Hawthorne Blvd. that I bought out the parts dept. of!!
Also known later as G&M Studebaker.
I have not seen one of their lic. frames in 30 years. And it appears to be attached to a South Bay area of So. Calif. Lark bumper, is that in Chuck Collins' South Gate, CA Stude. yard sale?
quote:
Originally posted by lstude
Here is another. Not sure where Lawndale is.
Leonard Shepherd
http://leonardshepherd.com/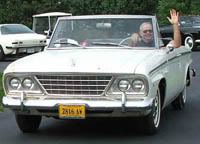 StudeRich
Studebakers Northwest
Ferndale, WA