quote:
Originally posted by studebaker-R2-4-me
Sonny,
I am interested in a 3.54:1 TT. That sounds like an all round good ratio to me. It'll help me spin those tires and give me a good cruising RPM down the highway. The email has been sent to the gentleman
Allen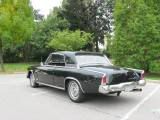 1964 GT Hawk R2 Clone
Oakville, Ontario.
Hamilton Chapter
See you at Niagara 2008 Crossroads Zone Meet July 18-20
Great! Thanks Allen!
Sonny
http://RacingStudebakers.com