George's parents used to love going to the auctions. Often they bought boxes of items without knowing the entire contents just to get one item in the box.
On one occasion, they bought a box to get a 1920s or possibly '30s 8mm projector. Included in the box were numerous old home movie reels. In several of these were shots of what I think is an old Rockne sedan towing a tent trailer. Several of the scenes in the film show it fording, amoung others, the Eel river. the water is past the bumpers. I wish I knew how to transfer these films to the PC, but I don't. I thought you guys might get a big kick out of seeing that old sedan pulling a very old (well, probably pretty new at the time) RV. There are numerous other old cars in the film. Most are late twenties and early thirties vintage. Just one of those really neat peeks into the past.
The films have been transferred onto VHS by George's parents. Perhaps I'll figure a way to interface the VHS player with the PC.
Oh, I almost forgot! There was also footage of a couple of car races. Old dirt-track stuff with those torpedo shaped cars of the thirties. Exciting stuff!
Looks like loads of fun!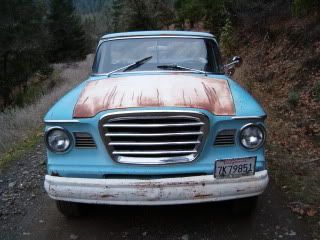 Home of the famous Mr. Ed!
Lotsa Larks!
K.I.S.S. Keep It Simple Studebaker!
Ron Smith
Where the heck is Lewiston, CA?