(
Be sure to also see the event promoters' Wrap-Up in Post #19 to this thread
)
The July 14-16 2017
Meltdown Drags
at Byron Dragway in Byron IL are history.
If you have a Bucket List and this event is not at the top
, you best rethink your priorities.
It keeps getting bigger and better every year! There's a rolling 50-year cutoff as to appearance, so any cars looking newer than 1966, even sporting post-1966 wheels or something, were prohibited from competing.
This event is so popular that the
500
participants allowed to register sold out within 48 hours of when 2017 registration for the event went live on line at 12:01 AM January 2, 2017.
I buttonholed Co-Promoter Paul Zielsdorf (
a super guy, BTW; as is seemingly everyone associated with this event
) a few minutes Saturday morning, July 15. He reported the spectator gate had at least 4,000 people go through it Friday alone, but it could have been as high as 6,000; they just didn't know yet. Saturday saw even heavier traffic. Reportedly, the line of cars along IL 72 waiting to get in from I-39 east of Byron peaked at 2 1/2 miles long at one time.
I can believe it.
If you consider the money required to drag race "modern," the difference between The Meltdown Drags and today's high-dollar spectator sport called drag racing is as dramatic as the difference between 1957 NASCAR and 2017 NASCAR. It's no wonder The Meltdown Drags is as popular as its become; it deserves to be.
Well, enough prose. I know all you wanna do is see some pictures of the Studebakers there and a little about each one, so here goes in no particular order:
SDCer
David Swaim
returned with his R2/4-speed Avanti. Dave was hoping to get into the 15s and had just had his shifter rebuilt for faster shifts. Unfortunately, it was hanging up and as far as I know, he was in the 16s as a result
: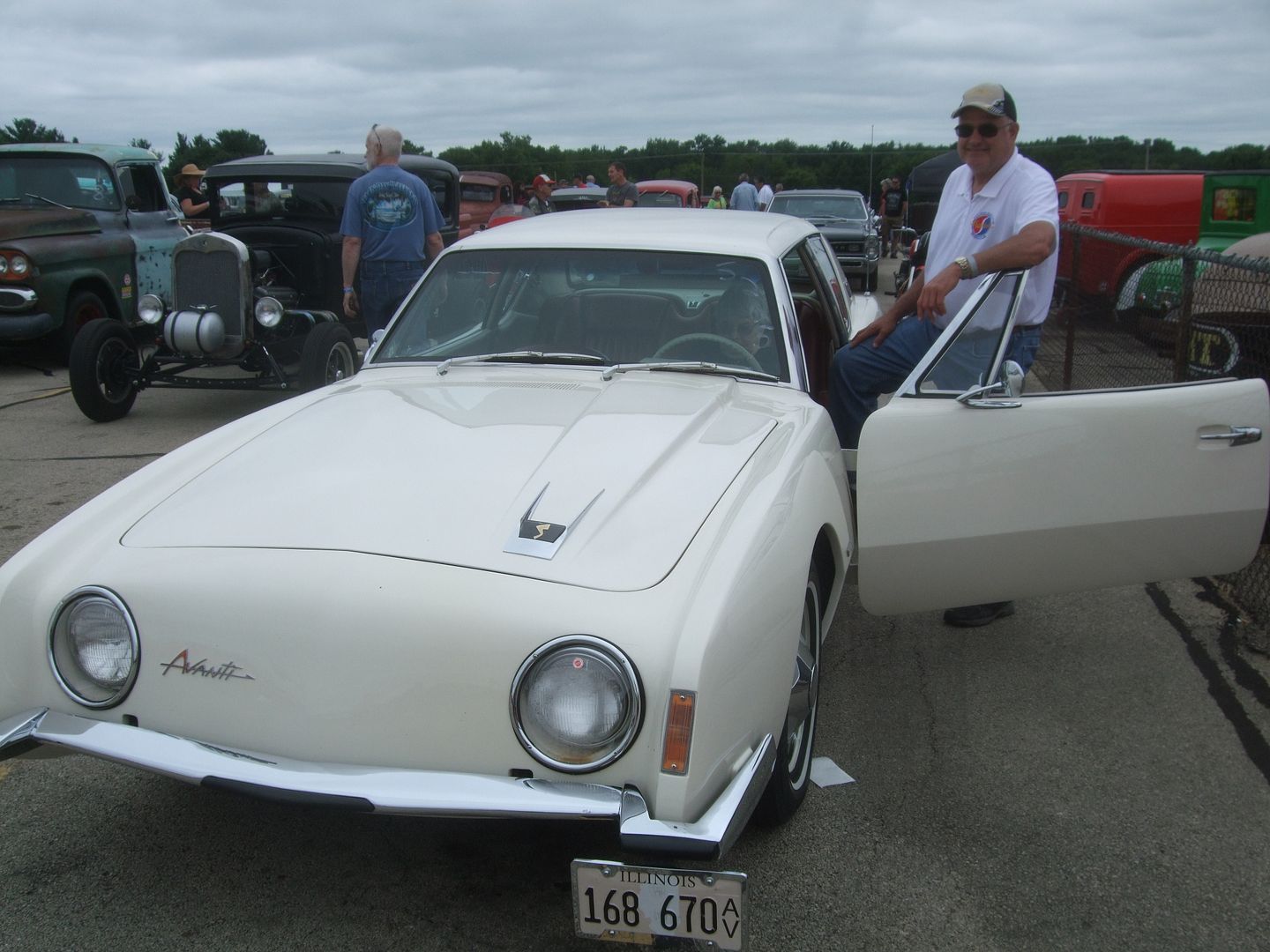 Long-time Rockford SDCer Gordy Beutsch (pronounced
"beach"
) returned with his cute "1953" straight-axle gasser, 259 Studebaker powered
:
Gordy's car wasn't out of the 16s on Friday and I didn't see his last run Saturday. Gordy won the door prize last year, a brand new new set of slicks, and was excited about trying them out, but he said they weren't as good as the old ones he had last year.

Gordy's car is an example of fun on a budget, which you can have at The Meltdown Drags. Look carefully on the rear fender and you can see the outline of a Sky Hawk "checkmark."
This car started out as a terribly rusty 1956 Sky Hawk that David Swaim
gave
Gordy free for the taking since Dave was going to junk it, it was so bad. Gordy showed me the "before" pictures: No dairy in Switzerland makes cheese with that many holes in it!
The car runs really well and does Studebaker proud. With 4.88 gears, Gordy has the little 259 really spinning at the traps.
The Suicide King
was back, but I didn't see him make any runs: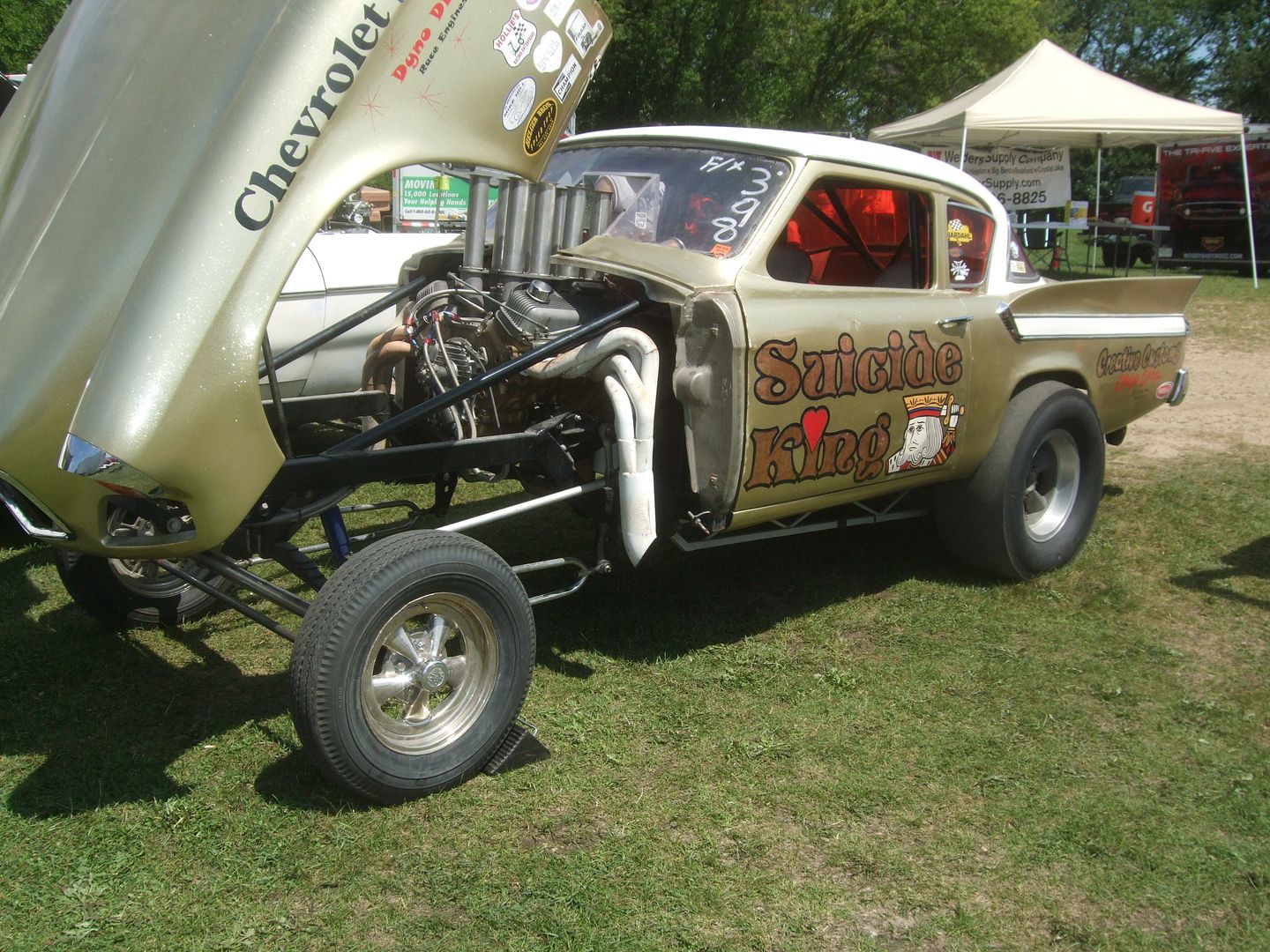 The Rude Stewed
made a good appearance with a 355 Chevy:
The Lark Ness Monster
was back with big block Chevy power and ran a
10.58
@ 125.95 Saturday morning...
woo-hoo!
Steve Rice
was there with his Vernon California(!) built 1947 Champion Business Coupe
: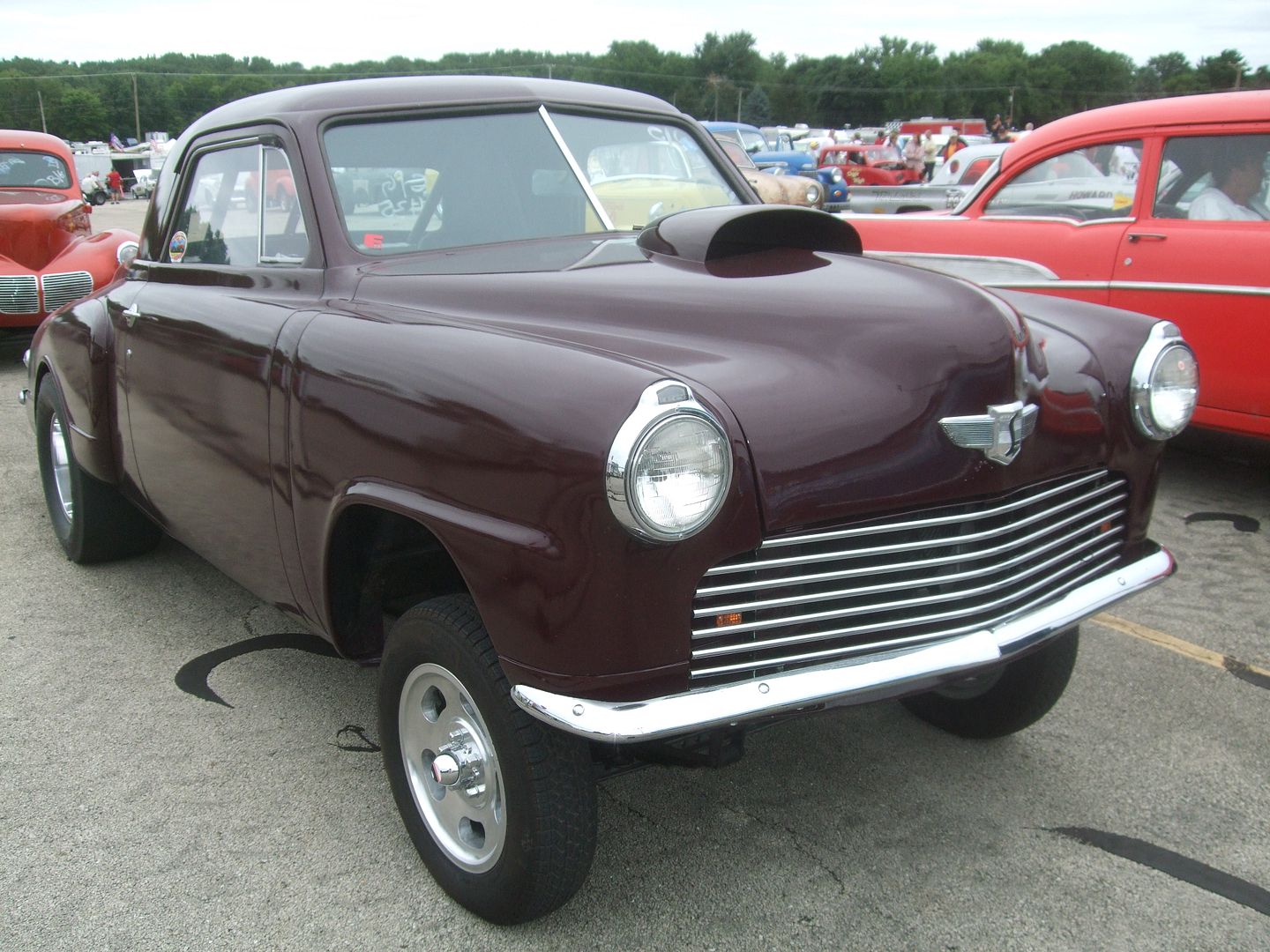 Steve's Champion has a Cadillac 500 engine with Turbo 400 transmisison. He has run 11.93 @ 113.59 MPH. Not sure of his best time this year. Take a good look at that hood scoop: It's the top half of a
Farmall Tractor
gas tank!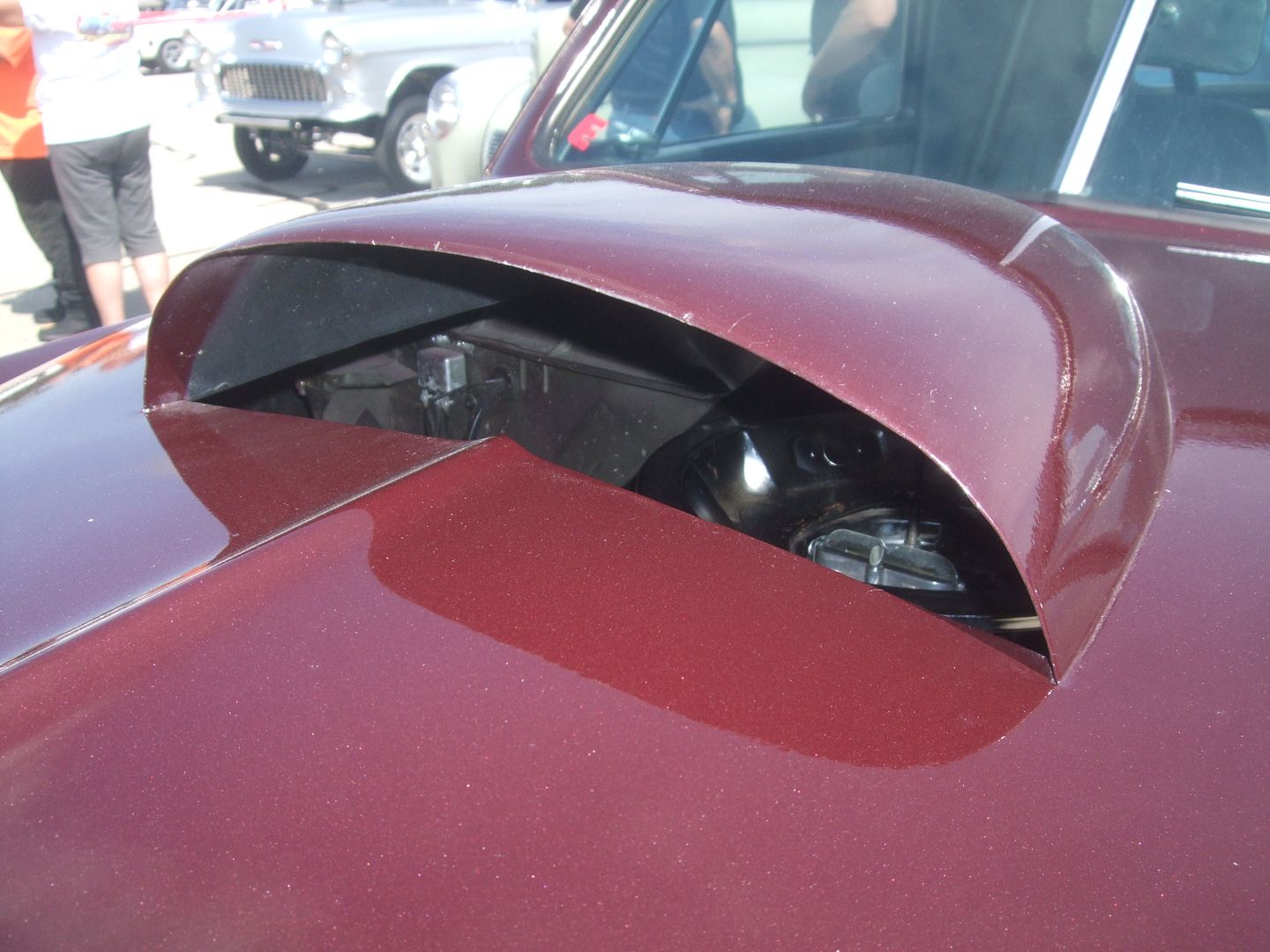 I caught up with SDCers
Jim Maxey
and his bright bronze 1963 R2 Daytona and
Rich Dudkowski
and his Screaming Yellow Zonker '61 as they were leaving a gas station by the motel in Rochelle IL on their way to the track. Both men are from South Bend. Jim wasn't competing but Rich was. Hopefully, Rich will post some times as I had trouble being everywhere at once: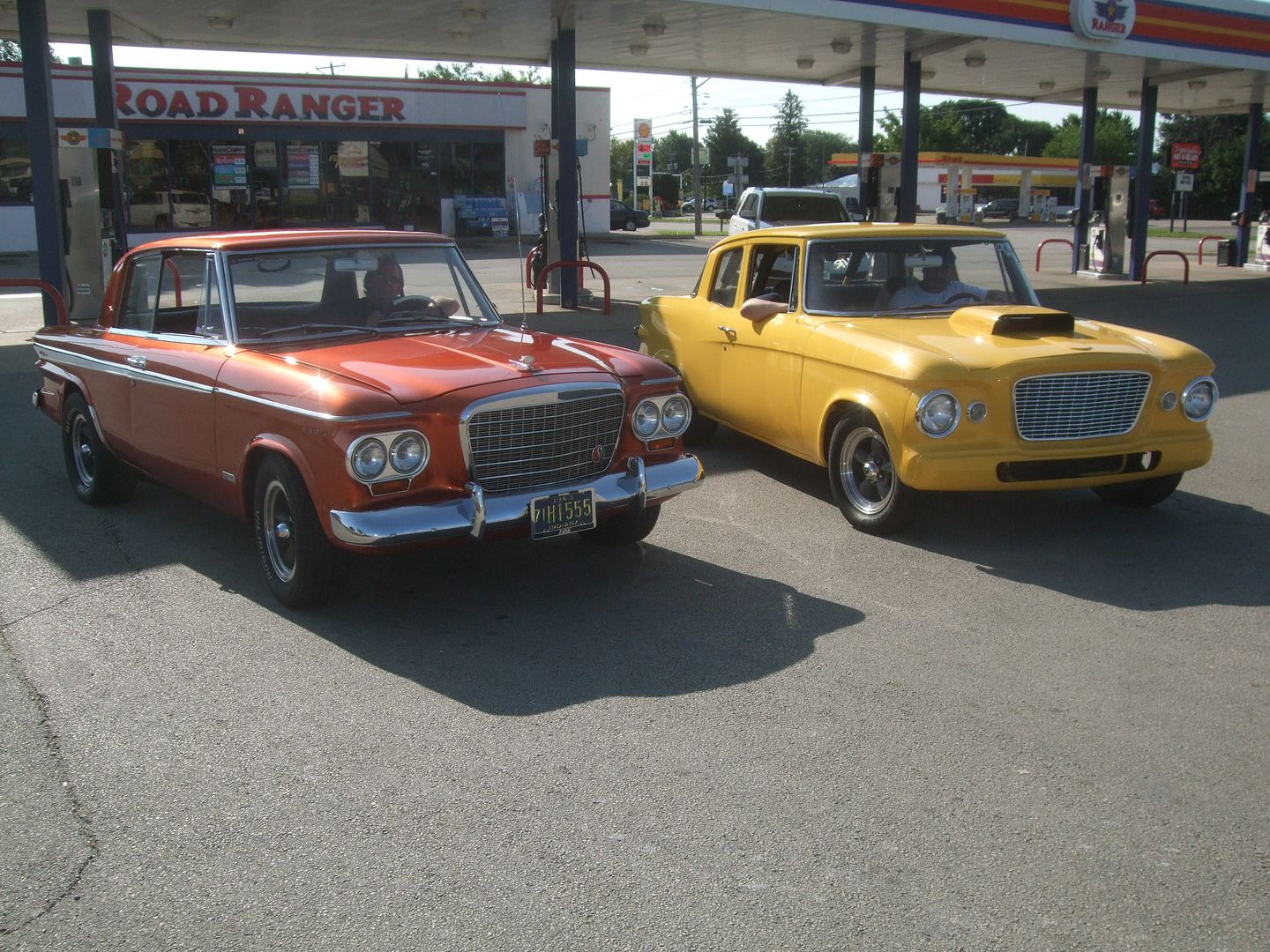 Jim Pepper
was helping a friend with a 409-powered 1955 Bel Air gasser, so Jim elected to not compete this year. Jim helped build the 409 and they were anxious to see how it was doing...very well, it would appear; they got in the 12s! However, Jim drove his genuine R2/4-speed 1963 Super Lark to The Meltdown and parked in the Show Car area:
Although it has been repainted a darker red, Jim's Super Lark was originally Super Red. Here's what Jim had to say about the 409 '55 with which he helped:
Hi Bob. Sorry I missed you yesterday. It sure was a great event. The 409 powered 55 Bel Air I helped build the engine for made an easy pass because the engine only had a few hours of run time on it. He ran 12.95 @ 108. This was short shifting at about 5500 and missing 3rd gear. The car should run mid 11's.

I think the neatest car there was this 1930 Model A with a 289 Stude in it. Jim: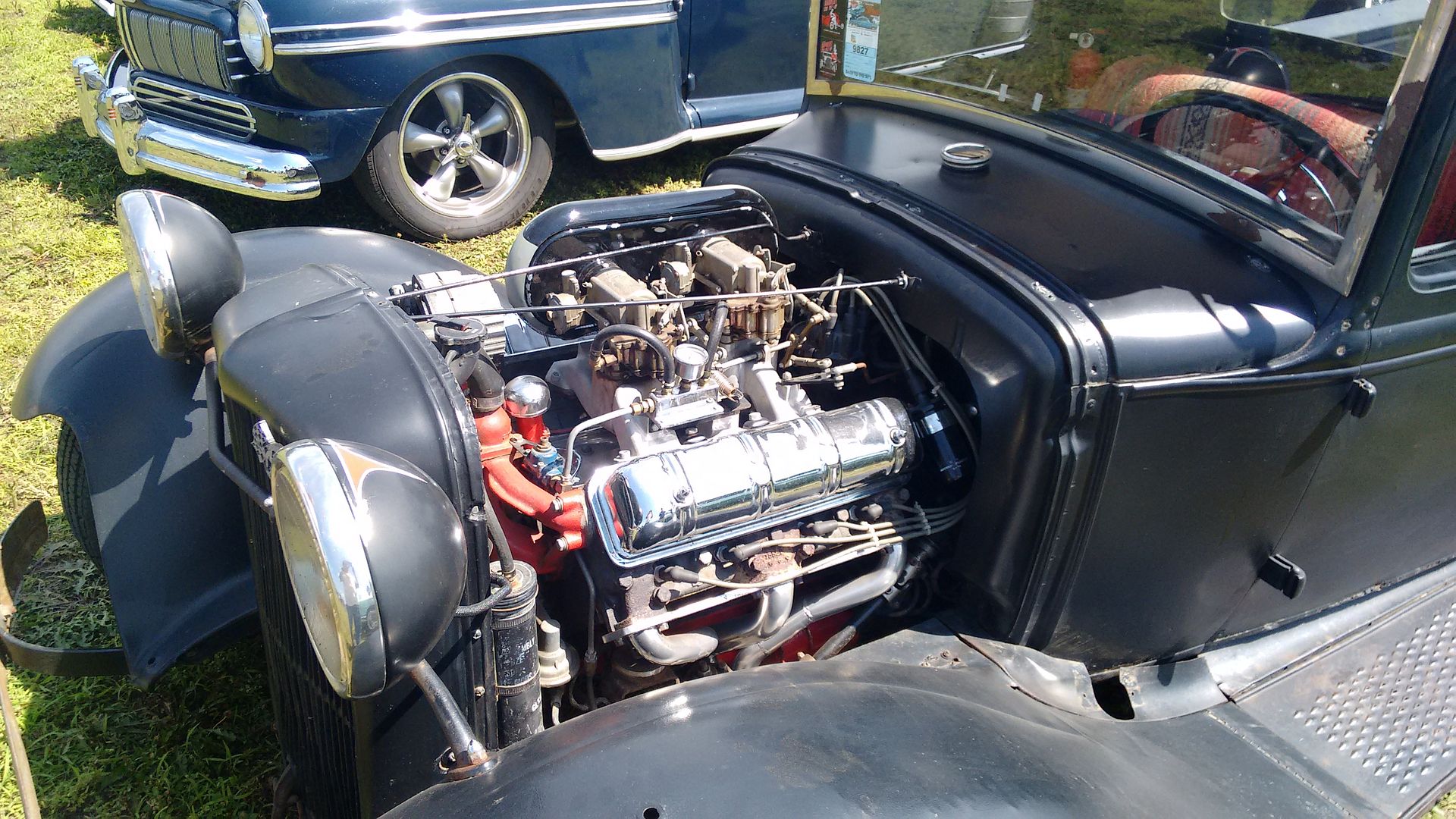 (Jim "got me" on this one; I hadn't seen it!
Cool beans
, Jim; thanks for the submission.
BP
)
Next to Jim's '63 was a chopped C-Body Stude. I don't think it was For Sale and have no additional information about it:
There were a couple Studes for sale in the car corral.
They included this nice 1962 Daytona hardtop: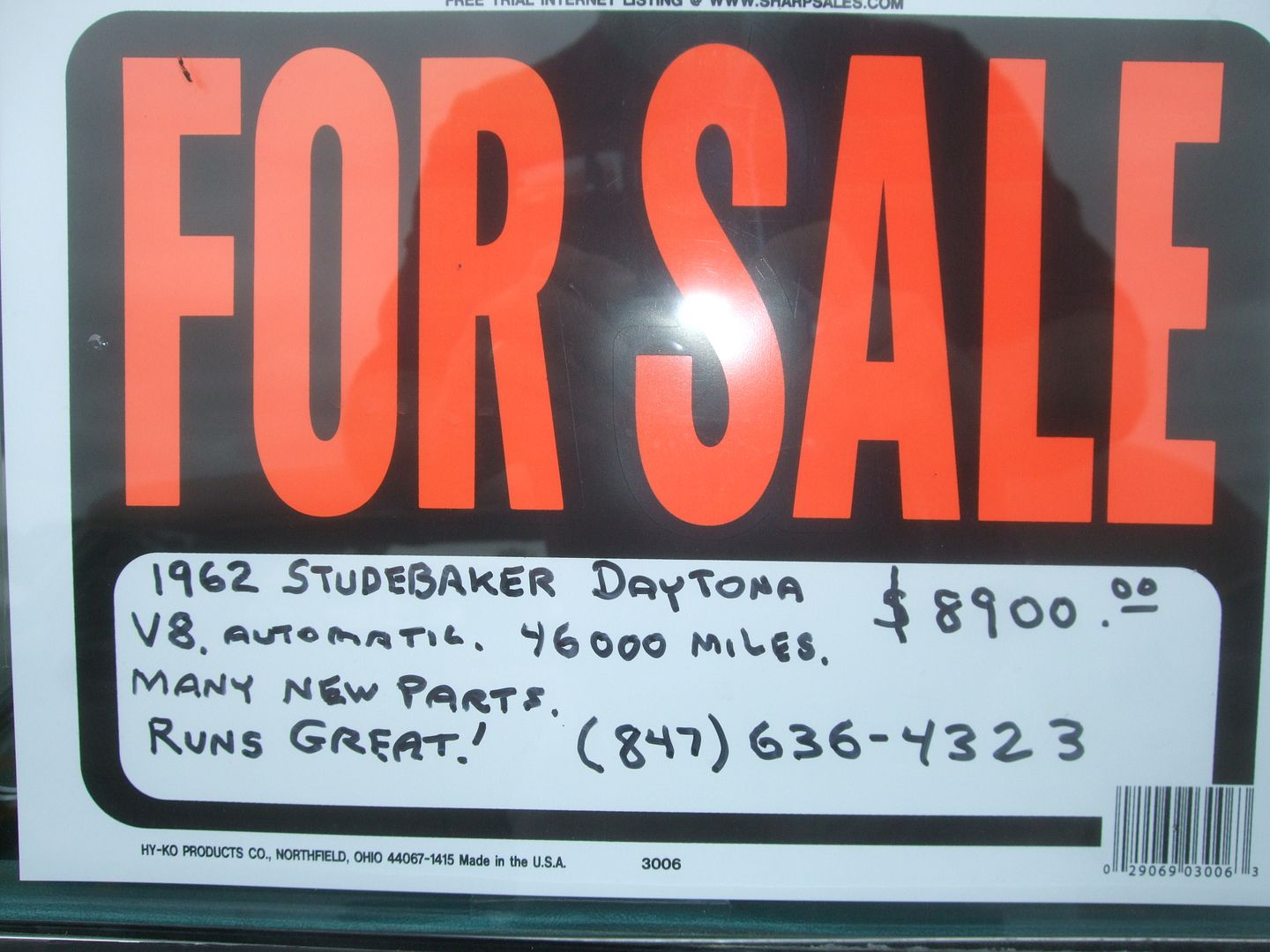 Also a 327 Chevy powered 1962 Lark 2-door: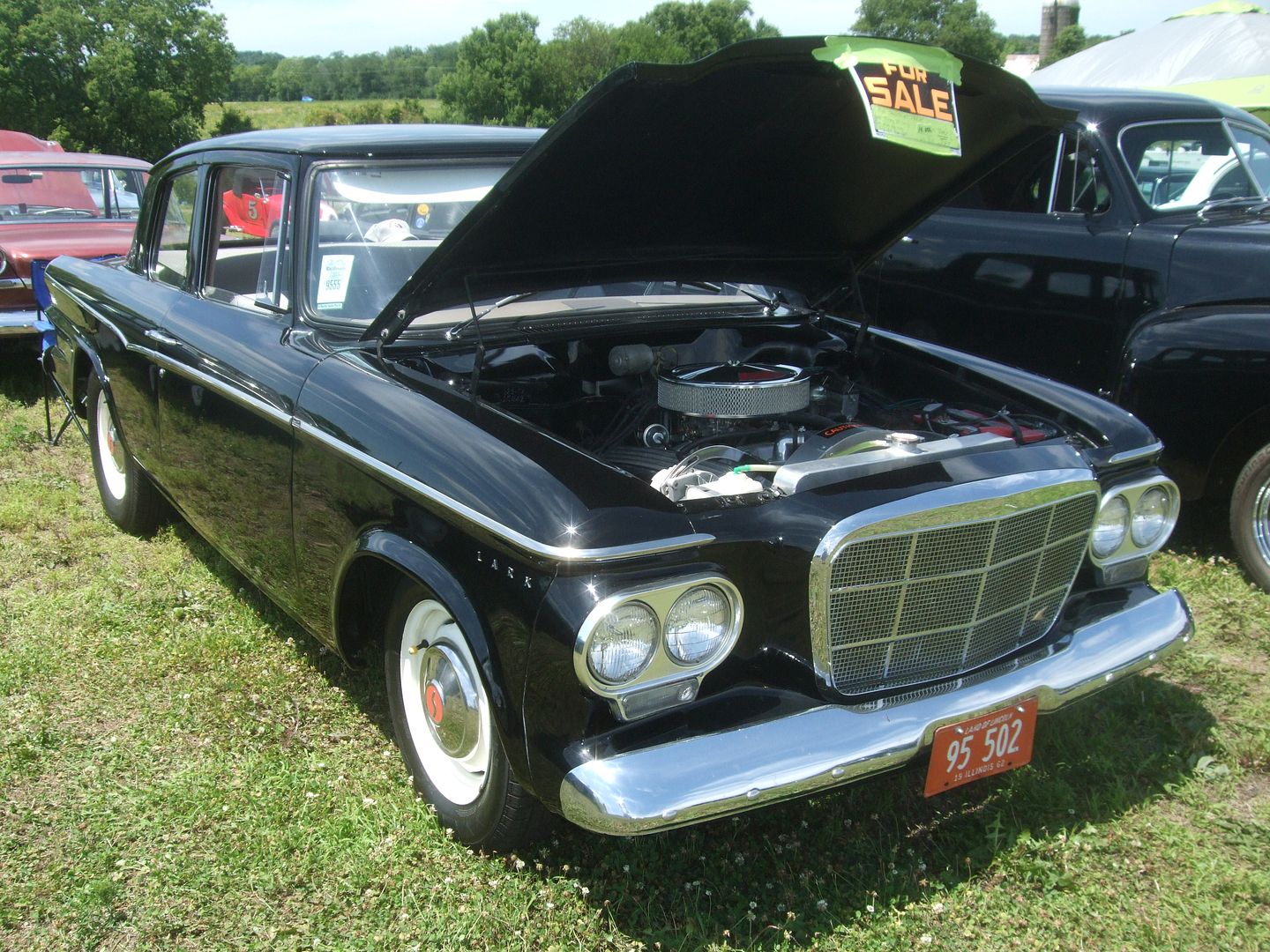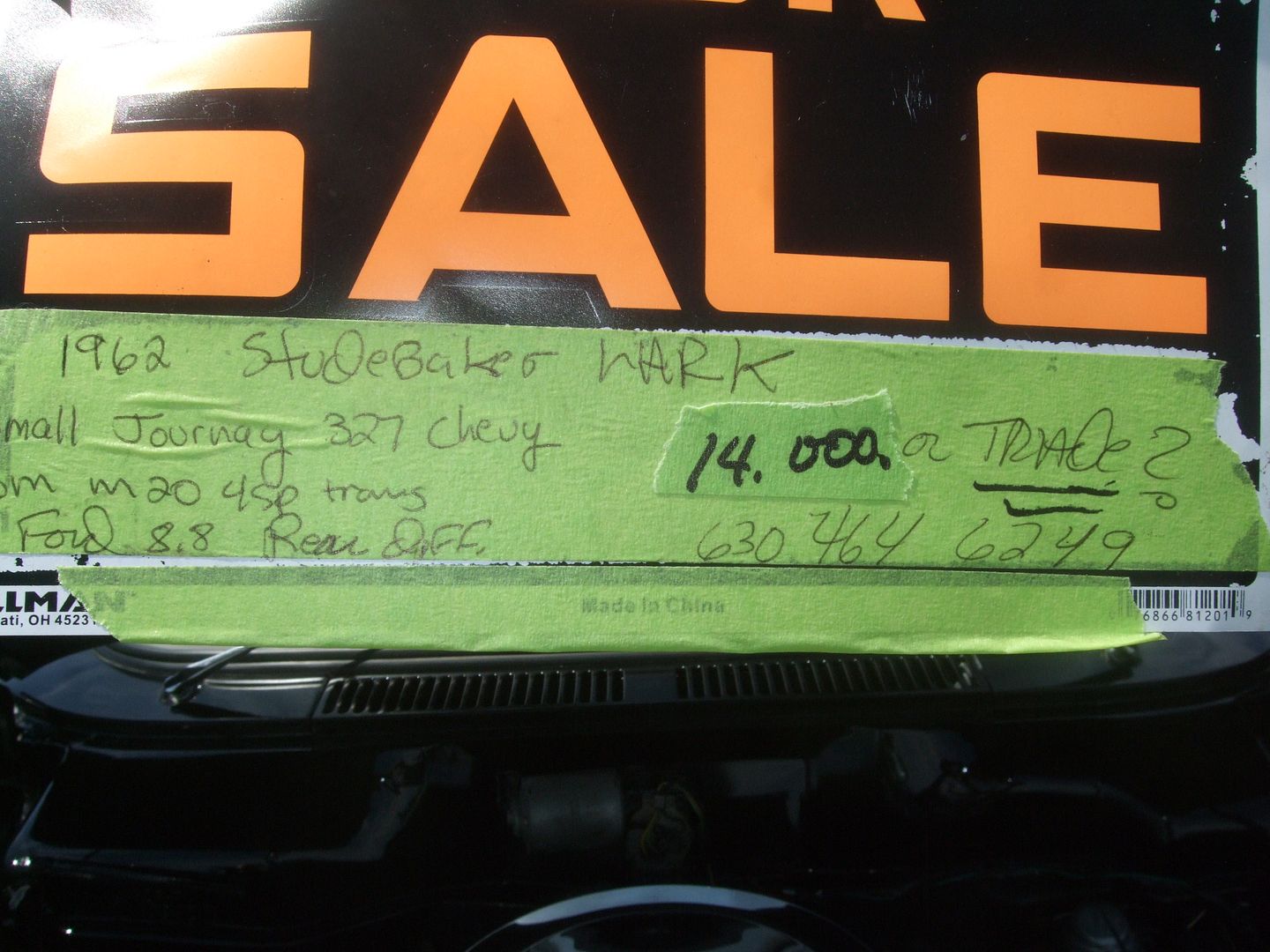 (Hmmm...a "small
journay
" 327? Does that mean it didn't get far from home before it was pulled from a Chevy and installed in this former Lark Six?
)
Finally, a couple non-Studebaker items of note:
Here is long-time Rockford IL SDCer
Ron Johnson
in his
street-legal,
flathead-powered "sprint car:"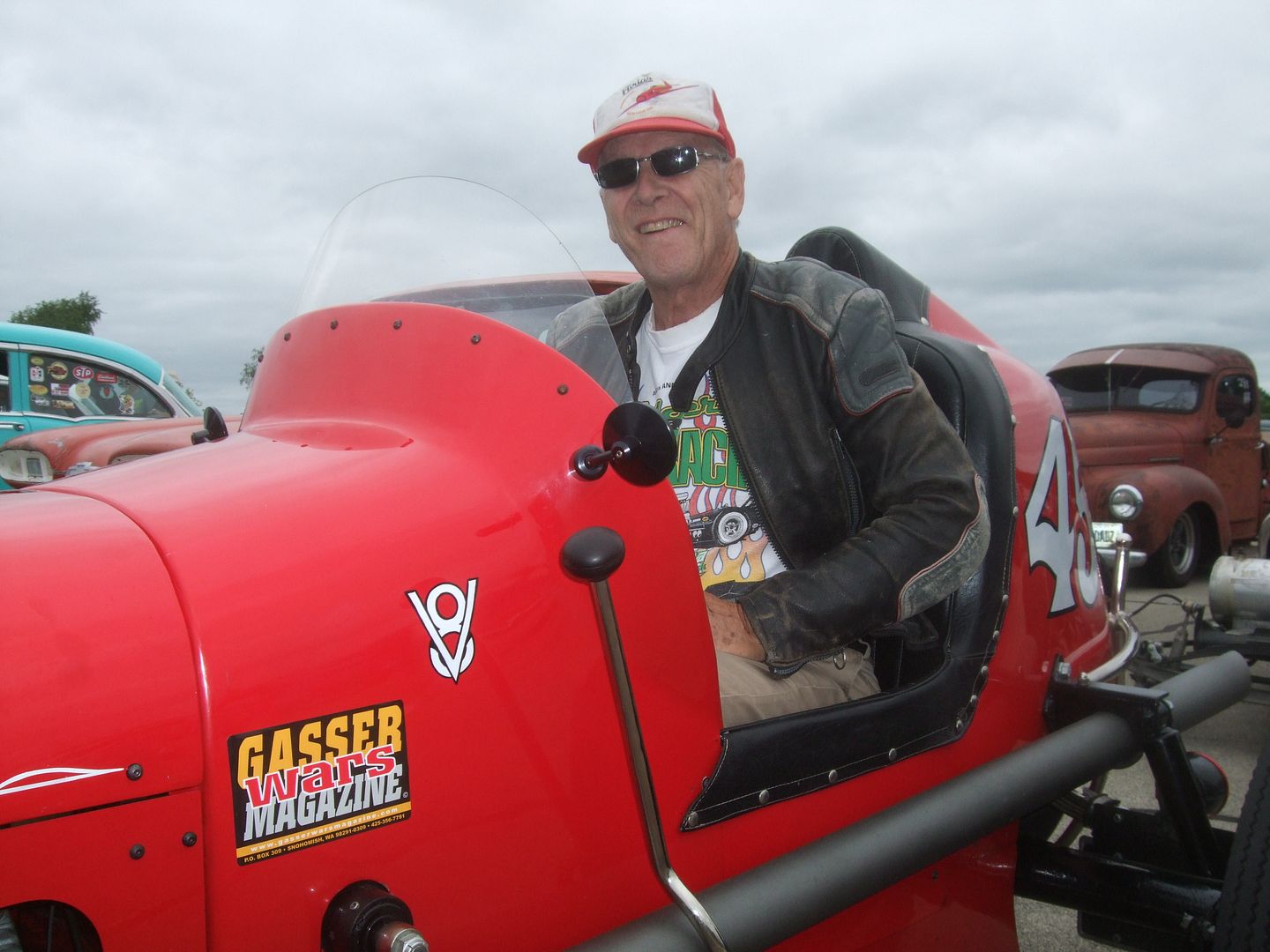 His "sprint car" is licensed and street-driven.
In fact, he's driven it more than 3,000 miles since he built it! Just as cute as a button. He let Yours Truly sit in it for a photo. (One more doughnut that morning and they'd still be trying to extract me!
Sheesh...
)
Ron ran it through but I forgot to record the time/speed. It does well.
Ron has owned and cared for one of the few remaining original 1956 Golden Hawks
with factory overdrive
since 1971, IIRC. It's the pretty Ceramic Green / Snowcap White. Ron is so meticulous that upon completing the Golden Hawk's
second
restoration a couple years ago, I am sure it is a better car now than when it was new. Still a column shift, too; nobody ever put a floor shift in it. Ron isn't about to, either.
A treat for MoPar fans was found in the Super Stock Class.
This Super Stock class line-up in the staging lanes sported
ten
cars.
Only one of them
, the dark blue 1963 427 Galaxie,
was not a 1963-1966 MoPar!
Max Wedge, early hemi, etc; MoPars are far and away the most popular cars in that class and, boy, do they run. Some are straight axle conversions (the rules are pretty lose here!) and do some impressive wheel stands:
I apologize for this report being light on specifics as to who ran what times and speeds. There is so much to see and do at this event that it's not possible to be everywhere all the time and still see everything, get caught up with friends, and the like:
"You have to see it to believe it!"
In fact, no report can do this event justice, it is that good.
Look for The Ninth Annual Meltdown Drags in mid-July 2018 and "
be there or be square!
"
BP