Holy Cow!
Right on the heels of helping Bill Pressler acquire his nice original 1966 Cruiser, I had the wonderful experience of helping a non-Studebaker collector (it's his first Stude!) buy the incredibly nice, original
9,900-actual mile
, bone dry California-pedigree 1960 Lark Convertible offered at the Indianapolis Mecum Spring Classic collector-car auction today.
Welcome new owner
Greg Kurey
and his son
David
of the Philadelphia area, photographed here immediately after they were the successful bidders on that beautiful little Lark. Greg is signing the auction slip accepting the car at his high-bid price:
Greg had seen the car in the Mecum advertising and his wife loved it. He began researching Studebakers a couple months ago, reading everything he could get a hold of. When he realized I was in the Indianapolis area, he e-mailed me and offered to pay me to accompany him to the sale and closely inspect the car early in the day, before it went through the chute about 6PM. Since I was going anyway, we arranged that I would meet him at the car this morning (Friday, May 19) for a lengthy inspection and analysis.
This car is gorgeous. Having all but dismantled it, I tendered the opinion that it was the nicest unrestored 1960 Lark convertible on the planet and
I believe it is
...and a V8 with stick overdrive to boot! Original spare tire never down. Never a trace of touch-up, much less a full or partial repaint. Original top, rear window, and all upholstery. Gosh, what a sweetheart...and in Jonquil Yellow to boot.
Be still my heart!
Sure, the engine seals are leaking front and rear
, but he is prepared to have that repaired and we discussed the realities of that Studebaker
-ahem-
"peculiarity." The tires on the ground have been replaced with generic collector-car bias-ply tires with the whitewall a little too wide for my liking, but he is OK with it. The spare tire is the correct whitewall width, I pointed out to him for future reference.
Greg pressed me for an opinion as to value. I had to say that the car would establish its own value when it sold. After all, if you run across the best unrestored example of a given make and model in existence,
any
make and model, how could you appraise it when there are no comparables? Greg ultimately decided what it was worth to him and was able to buy it for that,
but not a penny less!
I don't think they had a shill bidding against him as I was watching carefully...but even if they did, he would not have paid a dollar more.
I'm sure Greg will be joining SDC. He reports that the car will be modestly driven to shows and such in the Philly area, so you folks living over there be on the lookout for it. Examining it closely will be the best Studebaker treat you've had for some time.
Our analysis having been concluded, Greg posed with the car late Friday morning about 6 hours before he owned it: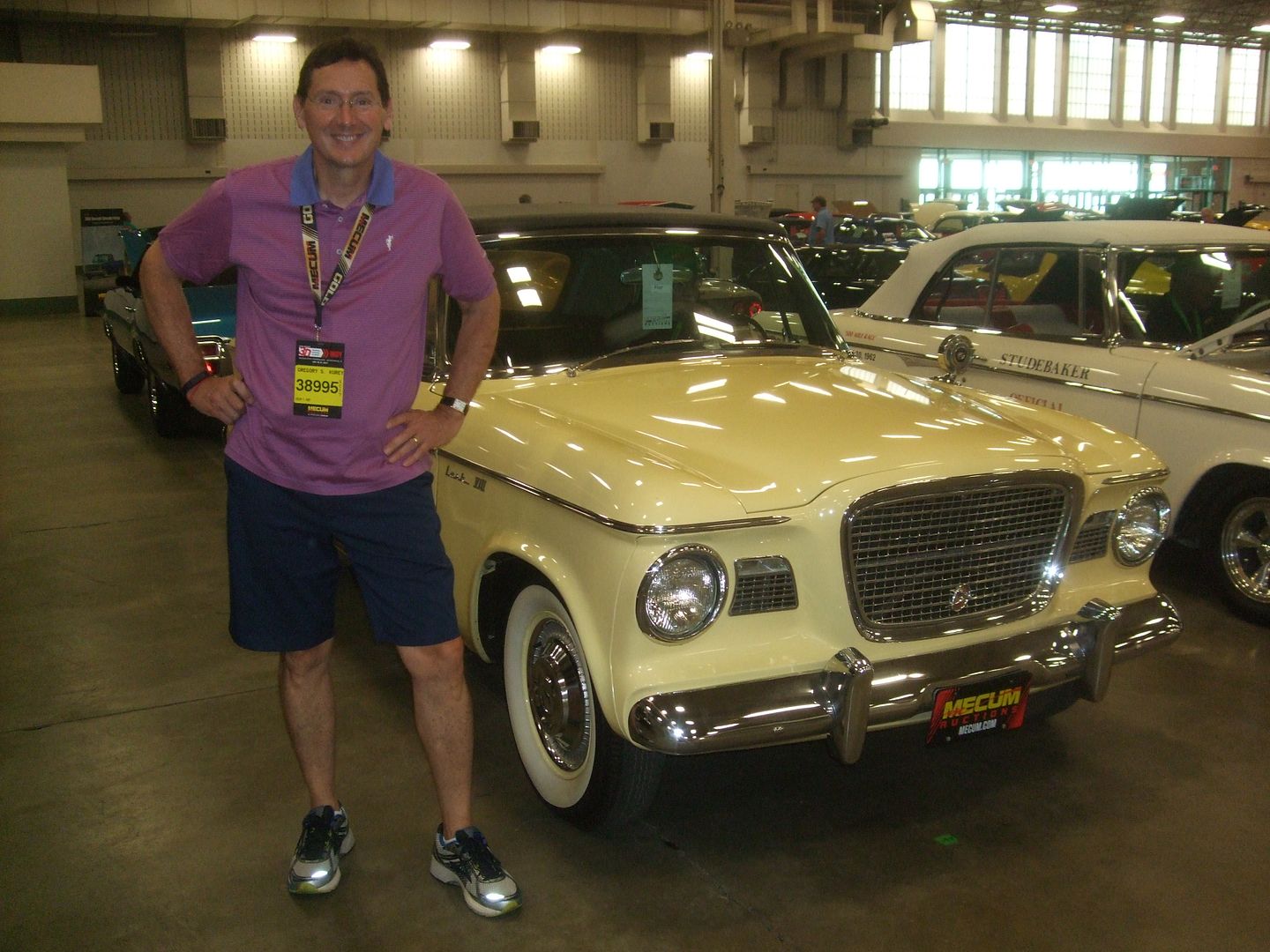 Again, Greg;
welcome aboard
and congratulations on owning such a beautiful original example of one of Studebaker's cutest, most popular models.
BP