Bill Pressler's new
Timberline Turquoise 1966 Cruiser
was
finally
delivered Monday afternoon, April 17, 2017. Here's Bill, ceremoniously receiving the keys from yours truly before surrendering them so we could get it off the trailer!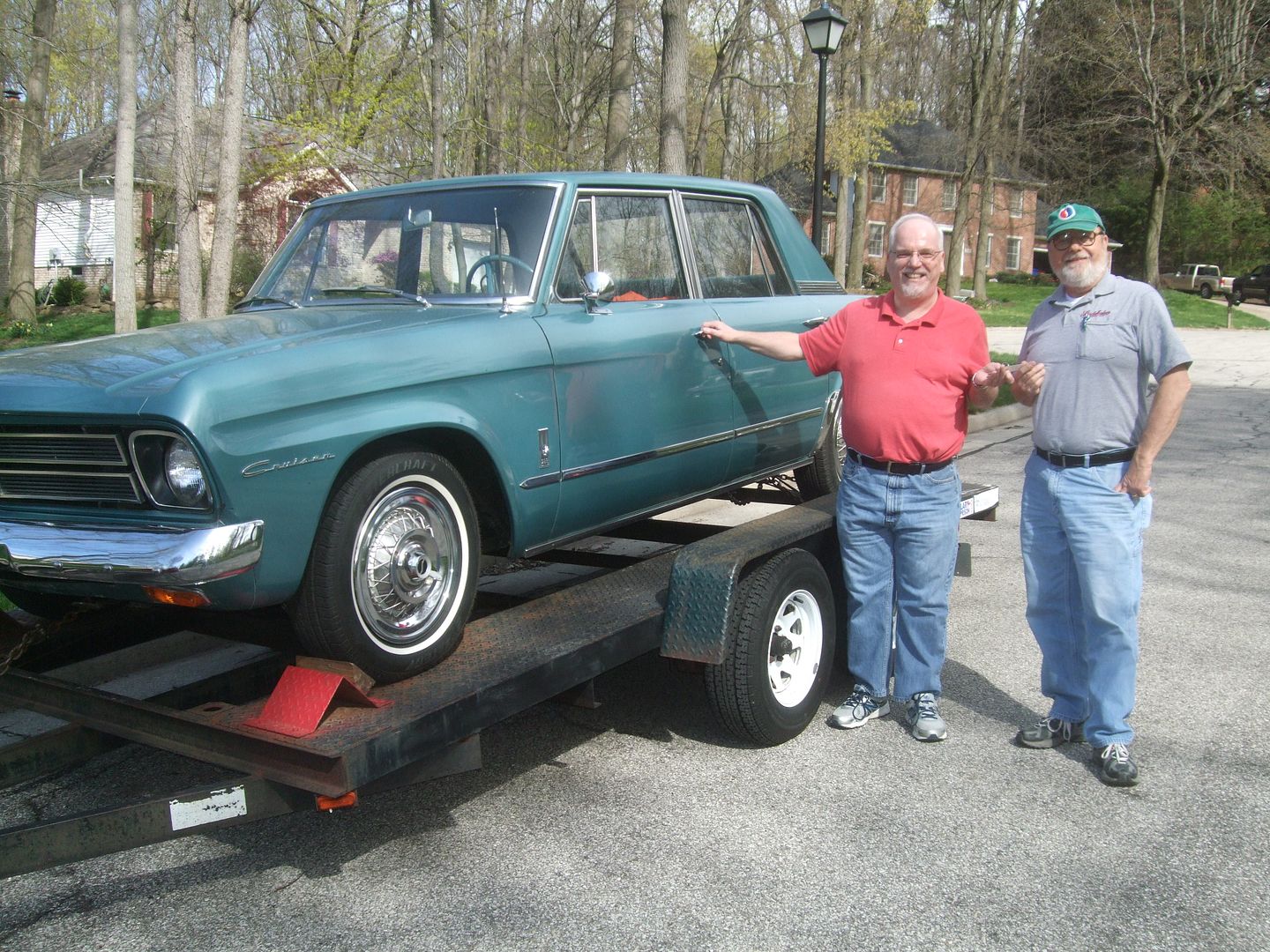 Eagle eyes will note the wire wheel covers having been installed while the car was on the trailer. There is a method to our madness, here. They were in the trunk for the 320-odd mile journey from Brownsburg IN to Kent OH, but we put them on right away when it arrived...the idea being that they would be in place for the full effect when Bill's wife Sheila got home from teaching school and saw it for the first time. I explained this deviousness to Bill thus,
"Bill, I've been in the used car business one way or another for 55-odd years...and I'm tellin' ya, first impressions are crucial."
Sheila was pleasantly impressed with the car, we suspect her having been subjected to no other topic of conversation for about two months. Her first three words were,
"That's really cute."
In that she saw it with travelling associate Howe Clark, Bill, and I standing in front of it, Howe assumed she was talking about
us!
Vanity, Howe; all is vanity...
Yours truly had never met Sheila. I'm happy to report that she is such a pleasant person that when Howe and I left after all having supper together at
Cracker Barrel
(
thanks, Bill!
), Howe postulated,
"How do you suppose she wound up with Bill?"
(
JUST KIDDING
, Bill; Howe said nothing of the sort....
but, indeed, we may have wondered
....
)
My having successfully backed it off the trailer, Bill took the wheel and drove it a half-block up the street and into his garage. (His street was too busy for us to be unloading a car, so we went to a large cul-de-sac a few doors down for unloading.) Once safely in their garage, Bill and Sheila posed with their happy new acquisition: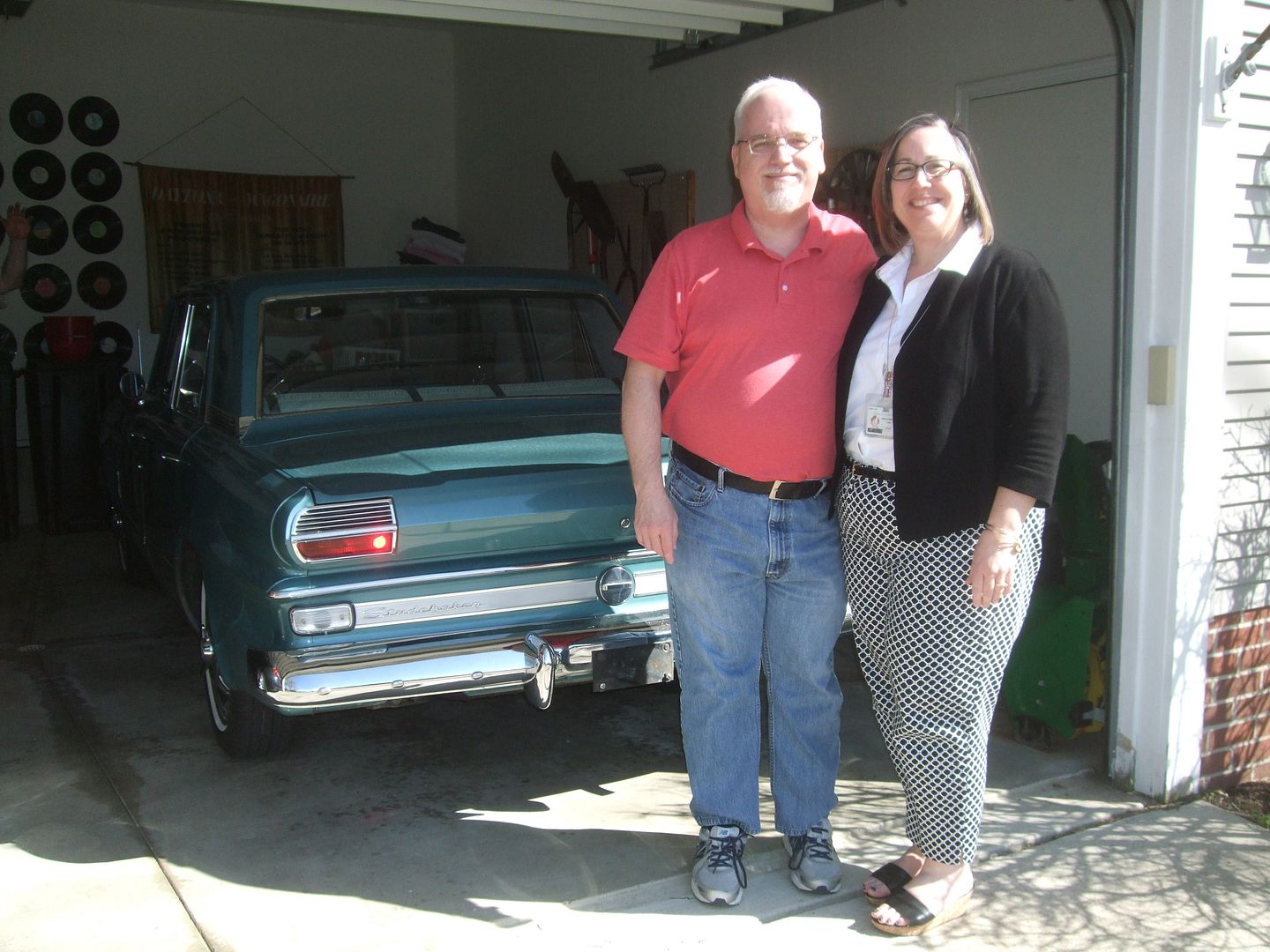 Bill himself was most pleased with the car and asked that thanks be tendered to SDC Forum Member
John Thompson
of Edinburgh IN. Bill said John described the car accurately and honestly, and that Bill much appreciated the care and attention John had given it during his period of ownership; about 4 years.
Having bid Bill and Sheila farewell at Cracker Barrel Monday evening, Howe and I stayed overnight up the road in Mentor OH, east of Cleveland. Tuesday morning bright and early, we went to
John Wolf Instrument Repair & Restoration
in adjacent Willoughby OH to drop off all the instruments from Howe's 1957 Golden Hawk 400, to be restored. John's place was amazing; such a thorough operation and gorgeous work.
From there, we went west to take in
The Rock & Roll Hall of Fame
in downtown Cleveland (very cool), then back home to central Indiana with the empty car trailer in tow. Happily home by 7:00 PM.
Overall, the whole trip could not have been more pleasant or successful. Gorgeous weather, no traffic issues, and several missions all successfully accomplished. Thanks for the company, Howe, and best wishes with your new 1966 Cruiser, Bill and Sheila. It is my opinion that it might be the nicest original-paint, unrestored 1966 Studebaker Cruiser on the planet.
"Never say never"
as to ever seeing a nicer one...but at this juncture, I'd say that a serious contender for the position is yet to surface.
BP