How many Chevrolet V8s, 265s through 409s, do you suppose they made from 1958 through 1967; ten model years, plus the two years they supplied Studebaker with V8s in 1965 and 1966? They all used the same drop-in oil filter cartridge serviced from under the car; Fram CH200PL or equivalent. (1955 V8s had a canister filter up top and 1956-1957 V8s used a different number from below, although the design is the same.)
So Bill Pressler's "new"
Timberline Turquoise 1966 Cruiser
is resting comfortably in my storage building awaiting its trip to Kent OH, now scheduled for Monday, April 17. Photographed in the best United Press International Wagonaire elevation tradition: (
There is a clean, freshly-laundered orange drop cloth on half the front seat lest I soil the gorgeous upholstery and Bill refuses the car!
)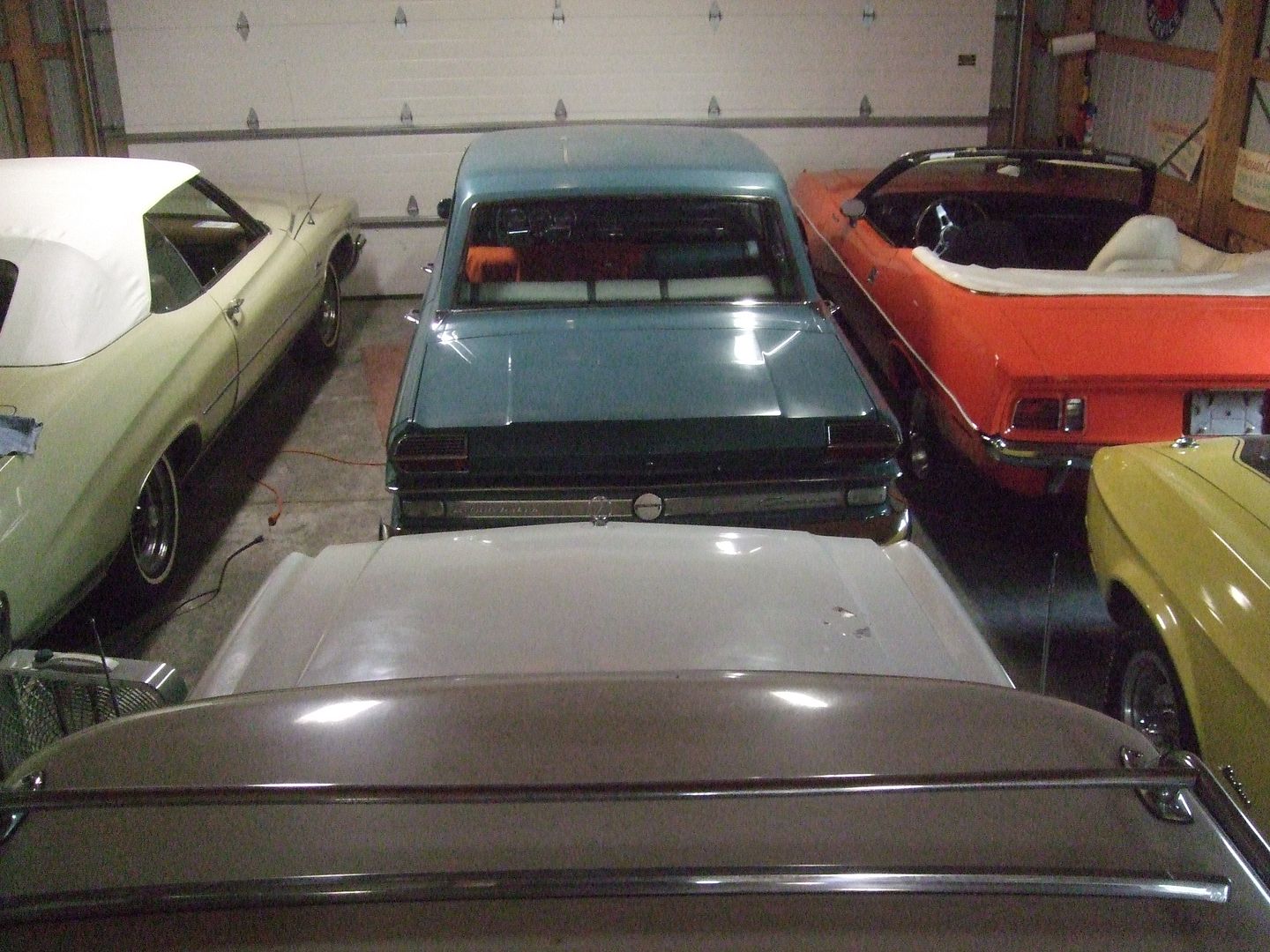 Income taxes being done, I told Bill I had time to service it (lube-oil-filter) and generally check it over if he wanted me to, before we put it back on the trailer for the trip east. He jumped at the chance, so I'll be doing that presently.
'Thought I'd stop at
Auto Zone
this evening and pick up a fresh oil filter for it.
WRONG!
Not only do they no longer stock that filter, they would have had to special order it to arrive the next day, and it was priced at
$11.99
for the STP Oil Filter equivalent number! Yes,
$11.99
for one of those flimsy things that can't cost half as much to manufacture as today's "modern" steel-can spin-on filters that sell for $3.99 in generic brands like STP!
Ridiculous.
I'll go to
NAPA
tomorrow, or may check
O'Reilly's
.
'Time was, that was one of the most common numbers, if not
the
most common number, oil filter stocked by everyone...as I said, how many million Chevrolet V8s used that filter in the ten model years from 1958 through 1967...and, now,
it's a special-order part with a day's wait?
Unbelievable. (
The car came to me/Bill with two NOS generic oil filters in the trunk, but they were manufactured so long ago and the boxes are so dry and brittle that I told Bill I wouldn't use them for fear the filter media would disintegrate as soon as it was placed in service. He concurred.
)
If I hadn't experienced this, I would not have believed the un-availability or obscene price...but then again,
Auto Zone
had to special-order the ordinary, basic Cloyes timing chain and sprocket set for that 1971 318 Barracuda several years ago...and how many million MoPar small-blocks used that very timing set through the years?

Again, some of us may have lived too long...
BP